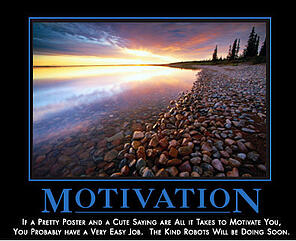 I can't help but comment on Adalius Thomas' statement this week that "motivation is for kindergarteners" in response to Patriots' coach Bill Belichick sending him and three other players home after arriving late for practice. I am not commenting on whether or not Belichick did the right thing, or even if this was the best way to motivate his team.
What I would like to comment on is motivation. It is not just for kindergarteners. We all need it. I like Zig Ziglar's quote, "People often say that motivation doesn't last. Well, neither does bathing -- that's why we recommend it daily."
Perhaps you can motivate yourself, perhaps you use something external to get you motivated, or perhaps you use someone else like a coach to keep you motivated. Bottom line is that we all need to be motivated on a regular basis.
Don's Coaching Questions:
What motivates you?
When you are stuck, what tricks to you use to get unstuck?
What distracts you from your goals?
What do you think?