Personal Productivity
Productivity for Technology Leaders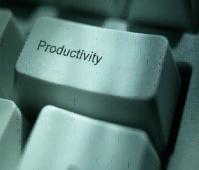 Personal Productivity Coaching gives you tools to:
stay focused
feel in control
be productive
make significant progress on your goals.
Are you able to make thoughtful decisions about where and how to spend your time or is your incoming information defining how you spend your day?
Are you dealing with your work when it shows up or when it blows up?
Are you managing your time, information and inbox or is it managing you?
As a leader, how are you spending your time? Strategic Planning, Staff Development, Setting Direction. How would you like to spend your time?
With a number of demands on us today:
New responsibilities
More work on fewer people
Increasing demands on our time, increasing volume of email
The need to lead, manage, and support change
No clear boundaries of our work
Balancing work and family
Given these demands
To do lists and simple priorities are not enough
We need to match up our projects and tasks with the big picture – mission, vision, personal goals, business goals
Time Commitment
Khouri Coaching & Consulting offers a one-day seminar plus six one-on-one sessions to effectively get more done. Improvement is usually seen immediately and continues to improve over the six week session.
Groups of up to twenty people can be accommodated in a session. Contact us for scheduling information and pricing.